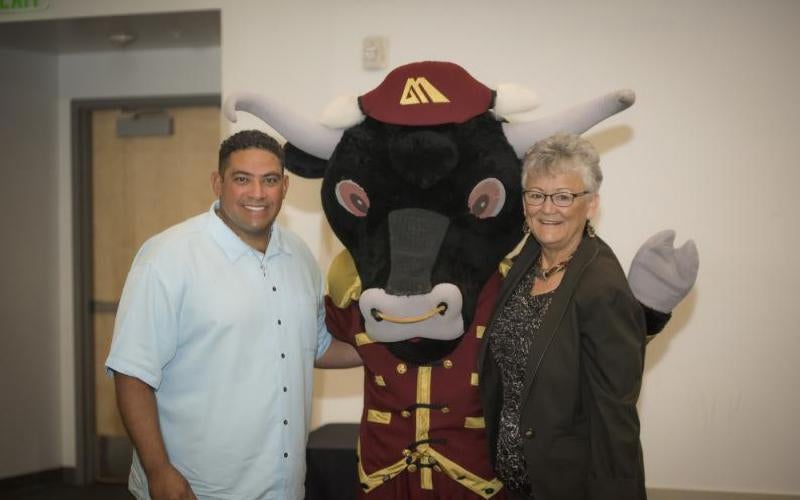 AWC Alums Lynne Pancrazi and Bengie Molina Inducted to the AWC Hall of Fame
November 2, 2017
---
Established in 2011, the Arizona Western College Hall of Fame honors alumni, former students, faculty and community leaders who have made a major contribution to the mission and goals of Arizona Western College, or, as former students, have contributed to in a significant way to the lives of others after being a part of the AWC Student Body. Those eligible for recognition include students, faculty, administrators, community leaders that have a significant connection to AWC, as well as those who have made a significant contribution to the College through personal time, effort and interest.
2017 Hall of Fame Inductee Lynne Pancrazi
Lynne Pancrazi has helped to change the face of education in Yuma and Arizona for the better. She did this through her work as an elected member of the Arizona House of Representatives (2007–2013) and the Arizona Senate (2013–2017), where she influenced legislation and policy at the state level and beyond on issues related to education, natural resources, public safety, and budget. She's also known for her dedication to a safe and secure border, managed growth, adequate infrastructure and rural community issues. A product of Yuma public schools, Pancrazi spent 28 years as a teacher, instructor and athletic coach in Yuma Elementary School District One. She studied Criminal Justice at Arizona Western College and received her bachelor's degree in Physical Education from Point Loma Nazarene College. Pancrazi also received her master's degree in Elementary Education from Northern Arizona University.  She currently serves District 5 on the Yuma County Board of Supervisors after being elected to the position in 2016.
2017 Hall of Fame Inductee Bengie Molina
Before Bengie Molina was an Angel, a Blue Jay, a Giant, or a Ranger – he was a Matador. After graduating from high school with honors in Puerto Rico, Molina played shortstop and pitched for Arizona Western College in 1991 and 1992. From there Molina went on to become a catcher in the Major Leagues where he won two World Series rings (Anaheim Angels in 2002, SanFrancisco Giants in 2010). He was also awarded a Golden Glove as the top defensive player at his position in both 2002 and 2003. Molina's baseball career includes a rare feat of hitting for the cycle in one game. On July 16, 2010, Molina hit (in order) a single, a double, a grand slam home run, and a triple. He is the first catcher in Major League history to hit for the cycle with a grand slam. After retiring from the majors, Molina went on to coach with the St. Louis Cardinals and the Texas Rangers, and made a third trip to the World Series with St. Louis. Molina is also a published author, having written the New York Times bestselling book "Molina: The Story of the Father Who Raised an Unlikely Dynasty."
Congratulations Lynne and Bengie!