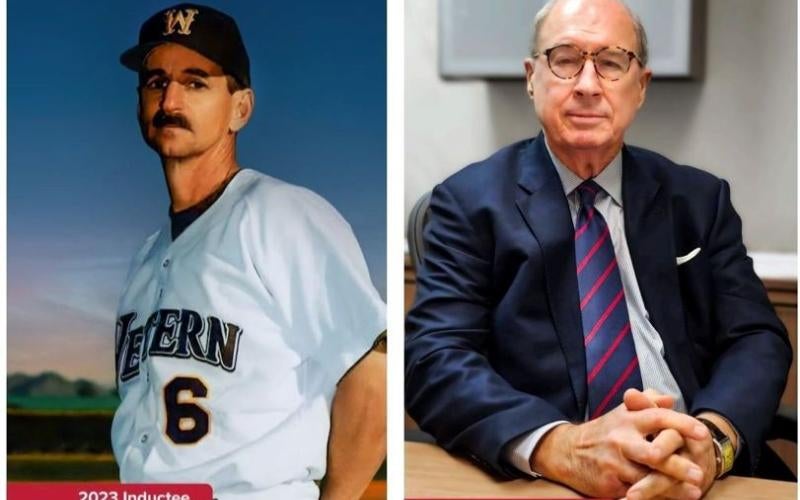 2nd Annual Schoolhouse Soiree
September 25, 2023
---
The AWC Foundation is honored to recognize our champions of education at our Schoolhouse Soiree. Join us as we celebrate our AWC Hall of Fame inductees, John Stratton and Tom Tyree, who have positively impacted AWC and our community. We will also be recognizing scholarship recipients and the generosity of donors who have made those opportunities possible. Join us on October 6!!
Meet our AWC Hall of Fame Inductee John Stratton
Coach John Stratton came to Arizona Western College in the Fall of 1984, after serving as a graduate assistant for the University of Arizona baseball program and for four years as a teacher and coach in Yuma public schools. His impact was immediate, landing 27 wins in his first year and taking the team to an Arizona Community College Athletic Conference (ACCAC) Championship in his second.
The Matadors racked up 817 wins over Stratton's 27-year tenure, with 20 winning seasons, 11 trips to the Region semi-finals, and three ACCAC championships. After Stratton's 1993 and 1995 squads were just one win away from making the National Junior College Athletic Association (NJCAA) College World Series, his 1996 squad made a deep run, finishing third in the nation with the AWC and Yuma communities rooting them on all the way. Learn more about John Stratton on our Hall of Fame page.
Meet our AWC Hall of Fame Inductee Tom Tyree
Tom Tyree is a champion for public education and has devoted his career to serving the students and teachers of the Yuma region, as a teacher, coach, mentor, principal, a district administrator, and then as the Yuma County Superintendent of Education and the Southwest Technical Education District of Yuma (STEDY).
Tom started his higher educational career at Arizona Western College and went on to earn undergraduate and graduate degrees at the University of Arizona. While at AWC, he played on the first nationally-ranked Matador football team, where he led the squad in interceptions as a defensive back. He took his general studies classes at AWC and remembers Dr. Larry McDonald, who made a huge impression in English - Freshman Composition and who paved the way for Tom's success as a communicator. Tom earned his undergraduate degree in Secondary Education and Social Studies, and his graduate degree in Educational Administration. Learn more about Tom Tyree on our Hall of Fame page.