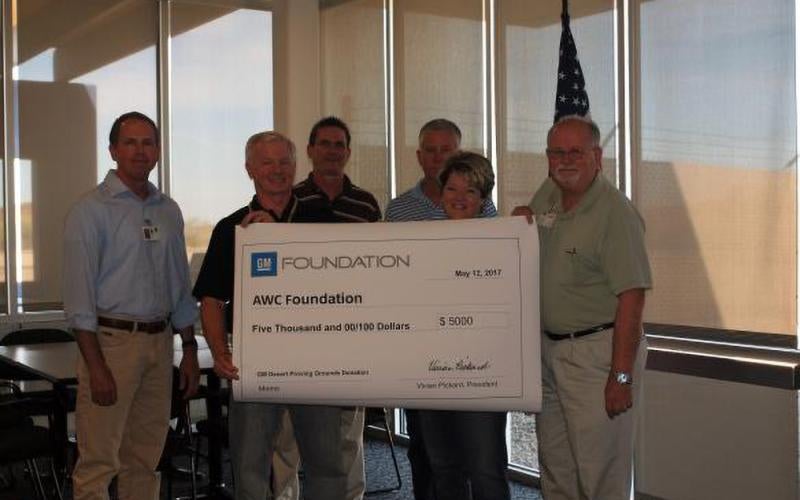 GM Foundation Donates $5000 to AWC Foundation in Memory of Edgar Mendoza
May 30, 2017
---
May 12, 2017, General Motors Desert Proving Grounds officially presented the AWC Foundation with another $5000 donation that is funded through the GM Foundation Plant City Grant.  The Edgar Mendoza GM Foundation Scholarship was set up in memory of former GM employee and AWC graduate, Edgar Mendoza, and the scholarship will be awarded to three students. 
Former GM employee Edgar Mendoza lost his two year battle with cancer in March 2014 at age 24.  He was a graduate of the AWC Automotive Technology Program and was one of 14 students hired by the DPG through the AWC and GM partnership program. 
An AWC plaque has been presented to GM bearing the names of all scholarship winners.  The plaque will be displayed at the GM facility and a second identical plaque will be on display at the Automotive Technology Department at AWC.  In September, scholarship winners will be honored along with the GM Foundation at the AWC Foundation 2017 Celebration of Scholars awards ceremony.
"Today's GM Foundation donation is the latest demonstration of the GM Desert Proving Ground's deep, ongoing commitment to supporting STEM (Science Technology Engineering and Math) related educational programs in Yuma County. The scholarships are an endorsement of the AWC Foundation and the outstanding Automotive Technology program at Arizona Western College. We are very pleased to have the opportunity to partner with AWC to prepare today's students to meet the challenges of tomorrow's increasingly technical job market." Frank West - Site Manager, GM Desert Proving Ground
The Arizona Western College Foundation is honored to partner with the GM Foundation to provide this annual scholarship support for local area students.  The GM Desert Proving Ground's dedication to education and commitment to Arizona Western College is inspiring and we are grateful for their generosity and collaborative spirit.
About the GM Foundation
Since its inception in 1976, the GM Foundation has donated hundreds of millions of dollars to American charities, educational organizations and to disaster relief efforts worldwide. The GM Foundation focuses on supporting Education, Health and Human Services, the Environment and Community Development initiatives, mainly in the communities where GM operates. Funding of the GM Foundation comes solely from GM. The last contribution to the GM Foundation was made in 2001. For more information, visit www.gm.com/gmfoundation