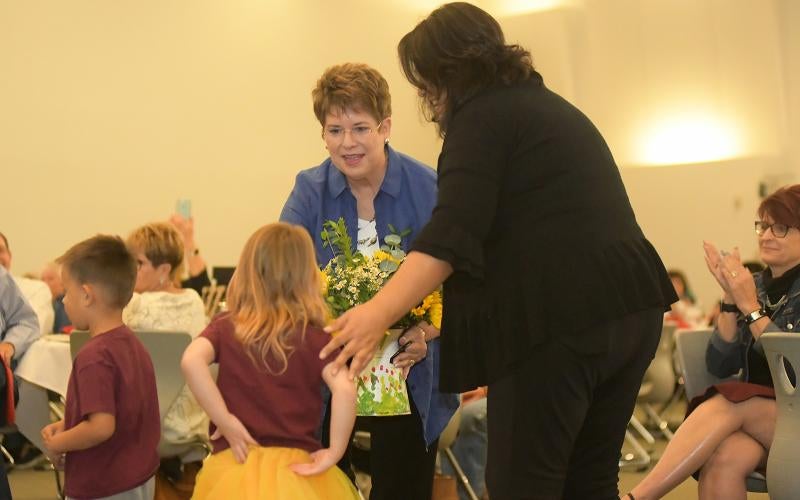 Dr. Kathryn Watson inducted into the AWC Hall of Fame
January 22, 2019
---
Dr. Kathy Watson's contributions are visible throughout the Arizona Western College campus and the larger Yuma community. During her 33 years as professor of Family Studies, she taught a wide variety of classes from Child Development to Family Relations. The state-of-the-art Child Development Learning Lab on the Yuma campus is named in her honor for her many professional contributions to this field of study.  
Dr. Watson served in leadership capacities across a diverse array of AWC academic divisions, including Business, Social Sciences, Fine Arts, Agriculture Technology, Physical Education, Recreation and Sport, Public Safety, Human Services, Science, and Math. Prior to academic leadership, she was the founding director of the faculty-led Center for Teaching Effectiveness, helping introduce high-impact programs such as the AWC Mentor Program, FLEX Program, and the Teacher of the Year.
Dr. Watson has deep and broad ties to the Yuma region. She is a product of the community college/university partnership, having started with her AA in Home Economics at AWC and finishing as the first Yuma doctoral student to graduate from NAU-Yuma and be hooded at the AWC-NAU commencement ceremony. She is widely published in her field, including a 29-year position as Family Focus columnist with the Yuma Sun newspaper. She was named Yuma County Teacher of the Year in 1994 and earned the Yuma County Chamber of Commerce's distinguished Athena Award for women in leadership in 2003. Dr. Watson's commitment to professional growth for both herself and her colleagues is demonstrated by a history of conference participation and presentations. Community organizations that have benefited from her leadership include First Things First, YRMC, Zonta International and the American Association of Family and Consumer Sciences.