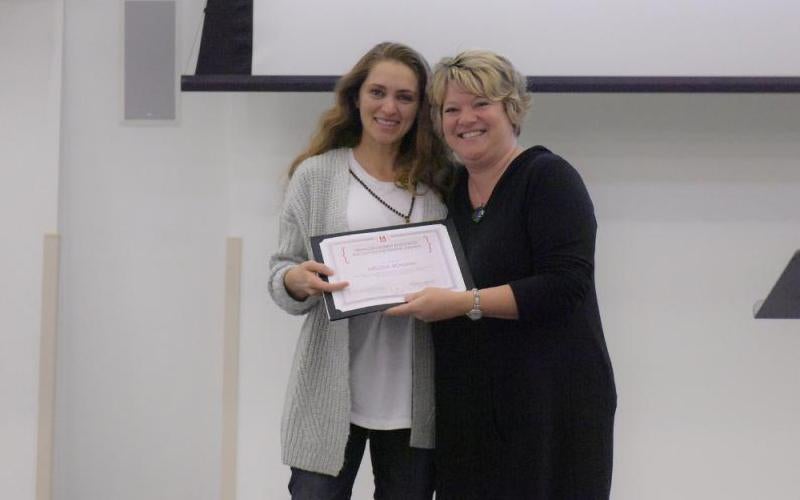 Now Accepting 2018 Endowed Faculty Award Nominations
November 2, 2017
---
The Arizona Western College Foundation is pleased to announce the call for nominations for the 2018 AWC Endowed Faculty Award.  Nominations must be filed with the Foundation by December 22, 2017 and winners will be announced in January at the all Faculty meeting.
The Shadle/Edgecombe Endowed Fund was established by Steve and Bobbie Shadle in recognition of Bobbie's parents and their dedication to higher education.  The Frances Morris Endowed Fund was established in honor of Frances Morris who served as a Board Member of Arizona Western College for 28 years.  Frances was a strong proponent of education and passionately supported the college in many ways. 
The purpose of this award is to recognize faculty for their outstanding contributions to their profession, their college, their students, and their community.  This award is based upon evidence of excellence in supporting and motivating students, advancing AWC through career, participation on committees, student activities, partnerships, and community outreach.  Nominees must be full-time AWC faculty members with at least 5 years of full-time AWC service.  Contact the Foundation for nomination guidelines and the nomination form. 
Previous recipients of the Endowed Faculty Award:
2010:  Sam Colton, Scott McLean
2011:  Ted Martinez, Ellen Cohen
2012:  Paul Koblas, Zoe Hawk
2013:  Angel Luna, Scott Donnelly
2014:  Steve Moore, Steve Lund
2015:  Ellen Riek, Reetika Dhawan
2016:  Penny Cooper, Mary Sue Depuy
2017:  Dr. Michael Miller, Melissa Behunin