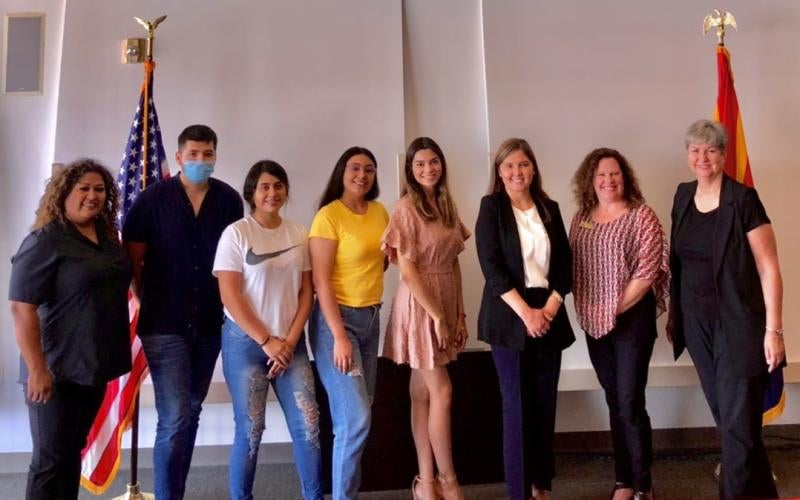 Mexican Consulate awards $9K for IME Becas Program
August 25, 2021
---
AWC Foundation seeks to match funds, generate $18K for scholarships
Yuma, AZ (August 9, 2021) – The Consulate of Mexico in Yuma awarded the AWC Foundation with $9,000 for the IME Becas program during a check presentation event on Thursday, July 22. The AWC Foundation is seeking to match the grant through fundraising efforts to offer 18 one-thousand-dollar scholarships for students. Currently, the AWC Foundation is halfway to its goal after receiving $4,500 in donations.
IME (Institute of Mexicans Abroad) Becas (Scholarships) is a program of the Government of Mexico that seeks to expand educational opportunities for Mexican students and those of Mexican origin living in the U.S. The fellowship program specifically aims to help low-income students earn their college degree.
In addition to the check presentation, the AWC Foundation and the Consulate of Mexico in Yuma also signed a Memorandum of Understanding during the event to continue their partnership for the 2021-2022 school year. The strong collaboration between the AWC Foundation and the Consulate of Mexico in Yuma was first established in 2016. Since that time, the IME Becas program, in conjunction with the AWC Foundation, has awarded almost $90,000 to impact a total of 99 students.
"We appreciate our partnership with the Mexican Consulate in Yuma. Each year they provide funds that support the academic development of Mexican students and increases their opportunities to successfully earn a degree," said Laura Campbell, Executive Director of the AWC Foundation.
IME Becas directly benefits students who are currently enrolled in a full-time degree program at AWC.
"I am so thankful to be a recipient of this scholarship," said AWC student Mayra Franquez. "I believe this program helps Mexican citizens achieve their goals in the U.S., and thanks to this scholarship, I will be able to complete my education."
Franquez has been a full-time student at AWC since the Fall of 2020 and is majoring in Business. After graduation next spring, she hopes to transfer to Arizona State University to major in Finance. She plans to use her education to open her own business.
In addition to student speakers, former AWC Vice President for Learning Services Dr. Linda Elliott-Nelson was also recognized during the event for her advocacy for the IME Becas program.
"Dr. Elliott-Nelson was one of the key people in the early development of our partnership, and she continues to work with and support the Yuma office of the Mexican Consulate, the AWC Foundation, and AWC to this very day," said Gladys Anaya, AWC Foundation Coordinator of Development and Alumni Relations. "We're grateful for Dr. Elliott-Nelson and the tireless work that she does to ensure students are provided with postsecondary opportunities for the betterment of our joint communities."
The Government of Mexico has been providing funds to organizations and educational institutions through IME Becas since the program started in 2005.