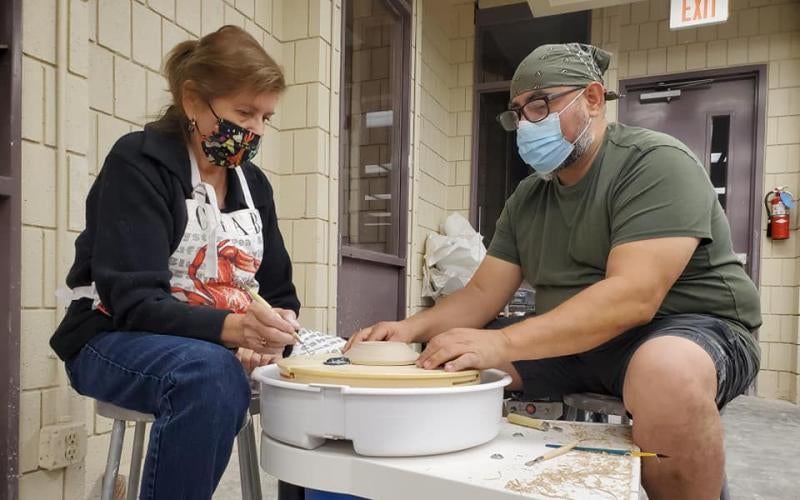 Veterans find camaraderie through ceramics class
August 17, 2022
---
AWC Foundation receives $7K grant to support Veterans Art Project
Yuma, AZ (August 17, 2022) – Chris Larson and his wife Maria have been participating in the Veterans Art Project since its inception seven years ago. While they enjoy the opportunity to spend time together and express themselves creatively, they keep coming back for the invaluable community they've found at Arizona Western College.
"For me, it means a lot to be able to connect with other veterans who get me right from the start," said Larson, who is a Marine Corps veteran. "We have shared experiences and adversities that most people could never understand. We've all got wounds of one kind or another. We're able to let our guards down and support each other in a safe, judgment-free environment."
The Veterans Art Project supports AWC's mission of transforming lives through education and partnerships to create thriving communities by offering free ceramics classes for active-duty military, veterans, and their adult family members. This compelling community service project engages veterans, many of whom suffer from post-traumatic or combat-related stress disorders, and their direct support system in a healing, connective, and hands-on artistic endeavor. Since it began in 2015, the program has served over 200 students, including widows and children of Vietnam veterans, Purple Heart recipients, and combat veterans.
"The students come in with a bond from being in military service and find ceramics to be another way to have camaraderie - over the techniques, trials, and successes. Everyone is willing to share what they have learned with each other, which is a great way to build community and have a strong program. Many students also repeat the class, which says a lot about what they get out of it," said Rebecca Shelby, AWC Professor of Ceramics.
"Ceramics is a very user-friendly medium that allows the participants to develop their ideas without getting bogged down in preconceived notions of what something should look like. The studio is an environment where it is safe to take risks with the art and it's a place that encourages outside-the-box thinking. It is also a practical art form and I see many of the students making functional wares that they can use at home. I'm proud of this program being part of the offerings for veterans at AWC."
When Marine Corps veteran Sam Cervantes first joined the program with his wife Eva, he didn't have any prior experience with ceramics. While he is creative in other ways as a musician and as a leather crafter, he wasn't sure how successful he'd be with clay. To his surprise, he became immersed in the class. So much so that he recently participated in the Yuma Art Walk to sell some of his creations as a fundraiser for the program.
"It's a new creative outlet for me that I enjoy very much," said Cervantes. "It's also a unique experience to be in a ceramics class on a college campus with several different generations of veterans. Everyone has that immediate connection. It's like an unspoken acknowledgment that you're around family, no matter what your background is or what branch of the military you've served in. During the class, I've had the chance to hear people's stories of where they've been and what they've experienced; I even found out I was on the same ship as others in the class, just at different times."
For Manuel Villalpando, the ceramics classes were a therapeutic activity that provided relief from his PTSD and the day-to-day worries of life.
"I always enjoyed going to class knowing that I was going to work on art and in the process forget about many stressors that I have these days," said Villalpando, who is an Army veteran. "I enjoyed the company of the other veterans attending, as well as the civilians attending the class that took the time to get to know and interact with the veterans too. The Vet Art program also allowed for me to learn new techniques and methods that some of the more advanced and experienced ceramic artists had to share with the class."
In an effort to expand the impact of the Veterans Art Project, the AWC Foundation recently received a Lifelong Arts Engagement Grant for $7,392 from the Arizona Commission on the Arts that will support the program for the 2022-2023 academic year.
"This is the first time the AWC Foundation has been awarded the Lifelong Arts Engagement Grant, and we are very honored that they found our Veteran Art Program worthy of supporting," said Laura Knaresboro, AWC Foundation Chief Operating Officer. "The AWC Veteran Art Program was created to provide an artistic outlet for our community heroes and their families. We take great pride in supporting our veteran and military families and are excited to be able to continue the Veteran Art Program through grants and community partnerships."
Contact:
Rebecca Cordero-Torres
Director of Military & Veteran Services
Arizona Western College
Rebecca.Cordero-Torres@azwestern.edu
(928) 344-7625
Contact:
Laura Knaresboro
Chief Operating Officer
Arizona Western College Foundation
Laura.Knaresboro@azwestern.edu
(928) 344-1723